RIS+ | Residential IT Support plan with Bitdefender GravityZone Business Security
New ransomware variants and other zero-day threats routinely bypass traditional AV/antimalware security.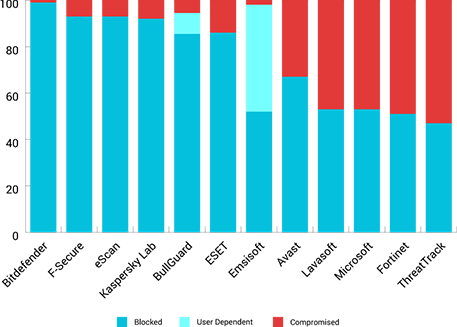 Using advanced behavior-based technologies, Bitdefender detected 99% of unknown threats in independent trials run by reputed independent testing organization, AV-Comparatives. Bitdefender also has two additional anti-ransomware defense layers – a blacklist of 2.8 million samples and rising, and a vaccine that can immunize devices against the encryption process.
Consistently superior protection, performance, and usability, proven in major independent tests
While many vendors boast revolutionary technologies, real innovation keeps Bitdefender ahead
Advanced application
behavior monitoring
Bitdefender Advanced Threat Control (ATC) permanently monitors running processes for signs of malicious behavior.
A pioneering technology launched in 2008 as AVC, ATC has constantly been enhanced, keeping Bitdefender one step ahead of emerging threats.
Largest security
intelligence cloud
With over 500 million machines protected, the Bitdefender Global Protective Network performs 11 Billion queries per day and uses machine learning and event correlation to detect threats without slowing down users.
AI and machine learning
perfected in years
Artificial Intelligence and machine learning are essential to combat a threat landscape that is larger and more sophisticated than ever.
Unlike other vendors, Bitdefender has years of experience in perfecting these technologies and the results clearly show this: better detection rates with fewer false positives
Easily track all security events in your organization

Reports and alerts help you be on top of any business security event

Avoid losing data and confidential information

Block hackers from trying to steal sensitive records or employee information

Simple remote deployment

Save time by remotely installing protection on all computers that are unprotected

Enhance your business productivity

Control employee access to certain websites or applications.

Highly granular security controls

Customize every aspect of security to ensure maximum protection and minimum effort
 Start Experiencing #1 protection and performance
Why GravityZone Business Security
Superior protection without slowing down users
Demonstrated Bitdefender leading protection and performance help you minimize the risks of a security breach impacting your business or slowing down employees' systems.
Comprehensive protection and coverage
To ensure you get the best protection, essential features such as Web Filtering, User Control, Firewall, Intrusion Detection, or Device Control, are included with no extra charge.
Save time with simple control from the web browserProtect your business in minutes and get real-time control and security insight from the web-based Control Center dashboard that can be hosted by Bitdefender or within your organization.
Datasheet 
System requirements
Installation Steps
System requirements
---
Supported Operating Systems:

 Windows 10, Windows 8, 8.1, Windows 7, Windows Vista (SP1), Windows XP (SP3)
 Mac OS X Sierra (10.12.x), Mac OS X El Capitan (10.11.x), Mac OS X Yosemite (10.10.5), Mac OS X Mavericks (10.9.5), Mac OS X Mountain Lion (10.8.5)
 Windows Embedded 8 Standard, Windows Embedded 8.1 Industry, Windows Embedded Standard 7, Windows Embedded POSReady 7, Windows Embedded Enterprise 7, Windows Embedded POSReady 2009, Windows Embedded Standard 2009, Windows XP Embedded with Service Pack 2, Windows XP Tablet PC Edition
 Windows Server 2012, Windows Server 2012 R2, Windows Small Business Server (SBS) 2011, Windows Small Business Server (SBS) 2008, Windows Server 2008 R2, Windows Server 2008, Windows Small Business Server (SBS) 2003, Windows Server 2003 R2, Windows Server 2003 with Service Pack 1, Windows Home Server
 Linux Operating Systems: Ubuntu 10.04 LTS or higher, Red Hat Enterprise Linux / CentOS 5.6 or higher, SUSE Linux Enterprise Server 11 or higher, OpenSUSE 11 or higher, Fedora 15 or higher, Debian 5.0 or higher.

Hardware requirements:

 Minimum : 2.4 GHz single-core CPU Recommended: 1.86 GHz or faster Intel Xeon multi-core CPU
 Memory: Minimum free RAM: 512 MB Recommended free RAM: 1 GB HDD space: 1.5 GB of free hard-disk space

GravityZone Control Center (on-premise console)

GravityZone Control Center is delivered as a virtual appliance and is available in the following formats:
 OVA (compatible with VMware vSphere, View)
 XVA (compatible with Citrix XenServer, XenDesktop, VDI-in-a-Box)
 VHD (compatible with Microsoft Hyper-V)
Support for other formats and virtualization platforms may be provided on request.
Bitdefender GravityZone Business Security combines outstanding antimalware, malicious URL, and anti-phishing protections with a highly customizable management console.PC MAG | January 2016