Includes all the screen mirroring features of Standard plus ability to share your Windows computer screen via a web link with up to 40 viewers.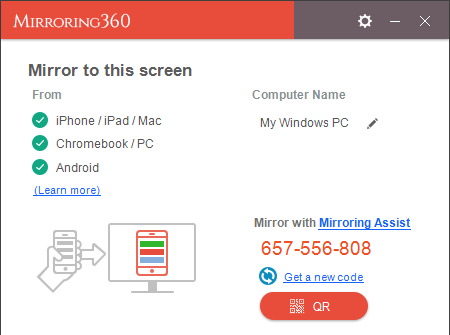 Screen Mirroring
Mirror your devices to your screen for presentations and recording
Supports mirroring from iPhone, iPad, Mac, Chromebook, Windows PC*, Android phone and Android tablet
Great way to share device screens through your computer when presenting with a projector in a conference room or classroom, or when broadcasting online
The free Mirroring Assist app makes it simple to find your target computer in environments with many devices and to mirror to computers that are within your network but under different subnets
* Mirror your Windows PC screen using the free Mirroring360 Sender Chrome Browser plug-in or purchase the Mirroring360 Sender for Windows.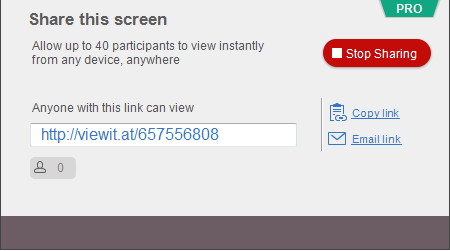 Screen Sharing – Pro edition exclusive
Share your Windows computer screen with up to 40 participants
They view your screen by going to a simple viewit.at URL on the web browser on their phone, tablet, or computer. No download or install required!
Great for in-room participants to view on their own screen and for remote participants on conference calls to quickly see your screen

Premium Support – Pro edition exclusive
Get help when you need it with premium support
Contact Support via phone, email or online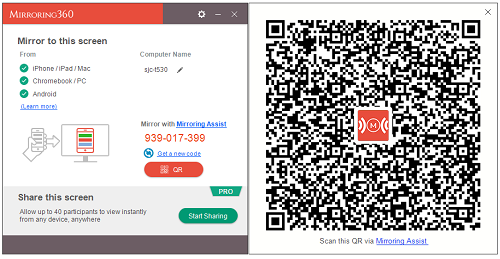 More Great Features
The free Mirroring Assist app makes it easier to find, bookmark and connect with your target computer in environments with many devices and across subnets. Use the app to scan an on-screen QR code or type in the ID number.
Record your mobile device screen by right clicking on the mirrored device image and selecting Record. The recording is saved as a standard .mp4 file for easy viewing and sharing.
Optionally set a password or turn on on-screen passcode for increased security
How to mirror your device's screen
Mirroring360 provides you the ability to mirror the display screen of devices such as iPad, iPhone, Android Phone or tablet, Chromebook, PC, or Mac to computers wire-free!
Mirroring an iPad / iPhone or Mac screen is achieved using the AirPlay™ technology made by Apple, all you need to do is simply install the Mirroring360 application to the computer you wish to mirror to and start mirroring!
Mirroring Android screens require the installation of Mirroring360 Sender on to your compatible Android device.
Mirroring a Windows PC screen requires the installation of Mirroring360 Sender on your PC.
Mirroring a Chromebook requires the installation of Chrome browser extensions